Funville, Playground and Cafe

MAIN PAGE
| TO VIEW * CLICK
OUTSIDE
IMAGE TO
CLOSE
|
CALENDAR MOCK 1v
|
STANDARD BIRTHDAY PARTY
|
THEMED PARTY
|
WEB PAGES
|
VA BEACH
|
DOUBLE HOME
Global notes -
When any design is scrolled vertically or hover there are effects with respect to boxes and photos moving or folding into vertically/horizontally place as is commonly seen in responsive design having long vertically scrolls. In the 3 designs below all colors, sections, photos and icons are interchangeable.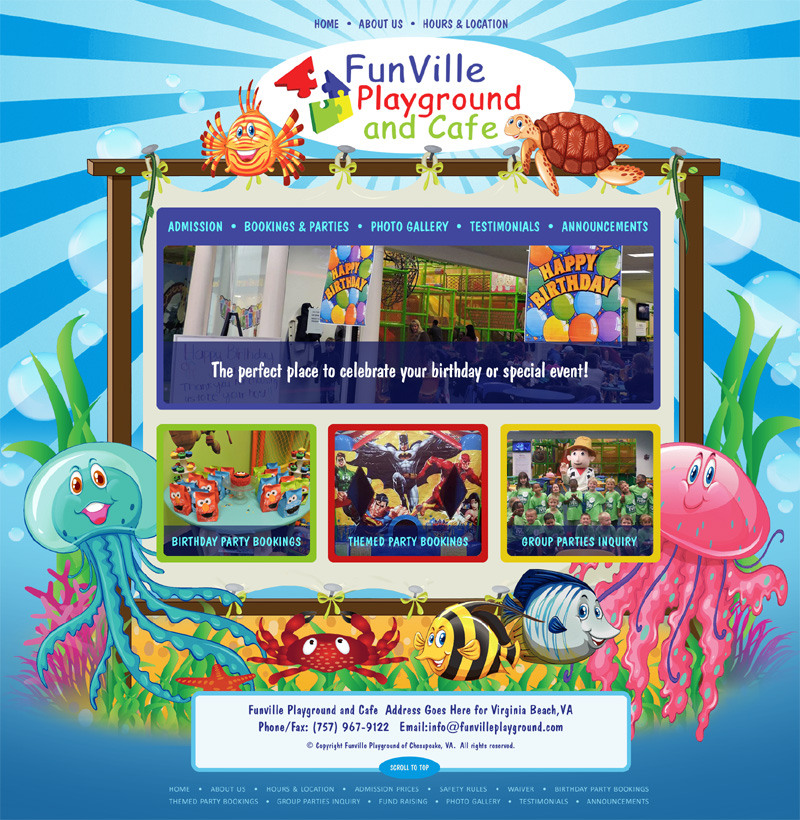 Design #Virginia Beach

• Sea, beach, water theme + sea creatured and logo centered
• Main large photo will animate to display different photos and taglines.
• 3 boxes for birthday, themed and group parties will animate when hovered; then when clicked will go to appropriate interior page.
Copyright © 2016
Virginia Web Design Company | VISONEFX
- All Rights Reserved. Duplication of this site in whole or in part is not permitted.